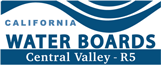 Central Valley dairy producers will soon be receiving a  certified letter from the Regional Water Quality Control  Board (Water Board). The letter requires two things of  dairy producers:
Submit a technical report that contains ALL Assessor

'

s 

Parcel Numbers (APNs) that a producer is including 

under the Reissued General Order (and therefore not 

under the Irrigated Lands Regulatory Program (ILRP)). 

Due July 1, 2022.

Include ALL of these parcels as part of your Nutrient

Management Plan (NMP) as well as in your Annual

Report going forward. Start January 1, 2022.
The Water Board is trying to sort out what parcels (APNs) of agricultural land are regulated under its different  regulatory programs and ensure that all parcels are  covered. Land covered in the Irrigated Lands Regulatory Program (ILRP) is tracked by parcel number and the Water Board has been comparing APNs covered in the ILRP with parcels covered in their other regulatory programs, such as the dairy program. The Water Board has been finding that not all APNs are currently covered in one of their programs. Therefore, the Water Board has decided to send out letters directing dairies to ensure that all of their parcels are covered under one of the existing programs. This means that dairies must decide what program they want to have their parcels enrolled under
Land near the dairy where forage crops are grown and liquid manure is applied must be included under the Dairy WDR, but land growing almonds (or other crops not receiving manure water) can be in either the dairy order or the ILRP. It is up to the dairy where they want to cover their individual parcels. All parcels being covered under the dairy order must be identified in this technical report and included in the NMP and Annual Report every year regardless of whether they receive manure in that year. The technical report is due July 1, 2022, along with the normal Annual Report. Producers must include all acreage in their NMP starting January 1, 2022, but the actual report is filed later.
Some reasons why APNs may not be included or have been entered incorrectly into an annual report include:
A field consisting of multiple APNs is entered into the

annual report under only one of the APNs.

The parcel numbers are entered into the report

incorrectly.

The numbers are entered into the report in the wrong

format. The report may have extra spaces that need to

be filled by place holders correctly (the water board

wants an

"

x

"

as the place holder so that it is not

confused with the zeros in the APN).
According to the water board, dairies should be receiving this letter sometime early this fall. When you get the letter, you can contact the person that prepares your annual report to make sure that they address all requirements of the letter for you. For additional questions, Paul Sousa, WUD Director of Environmental Affairs, can be reached via email at [email protected] .